ctcLink Updates
Campus Communications from our ctcLink Executive Sponsor
Email to Students: August 16, 2021
New Secure MySVC tools coming in early October!
Hello Student,
In October, Skagit Valley College, will move to a new system for student self-service. This new system called ctcLink will change the way you do all your online college business.
What are the benefits of ctcLink to me as a student?
The transition to ctcLink will help you better manage your entire college experience. You will be able to do the following:
Register for classes from your mobile device and online.
View grades and track academic goals.
Apply for financial aid.
Have 24/7 access to all of your student information with one login.
As we get closer to the go live date in October, you will receive information on how to activate and use a new ID, your ctcLink ID, when you login to ctcLink. You will register for Winter 2022 and access your student information with your new login.
We are excited for the improvements ctcLink will bring to your online experience with SVC!
Questions regarding this message can be sent to ctcLinkInfo@skagit.edu. 
News & Updates sent August 10, 2021
This is a challenging phase of the project, and our Subject Matter Experts (SMEs) are actually learning how to do their jobs in the new system, while assessing and improving ctcLink functionality for each business process, checking accuracy of data, and determining and setting employees' level of access and security roles in the system. "We are literally in a world of the unknown," stated Kristina Hutchinson, HCM Pillar Lead, and as we test each process, we are trying to determine how the data entered will impact our processes, but also other processes across the system.
Dear College Community,
We are only two months until ctcLink Go‐Live and it's time for User Acceptance Testing (UAT)!
UAT Testing Has Begun
Many of our colleagues began UAT in ctcLink on Thursday, July 28. UAT is organized into two "sprints," the first of which is scheduled to run through August 23. UAT is an opportunity for the ctcLink project team and some additional staff to test selected processes in the new system (entering new hires, processing invoices, enrolling students, etc.), in order to identify possible issues prior to going live. This is a critical and necessary step to a successful launch of ctcLink.
Community Support
I am amazed daily that this high-level of work is occurring parallel to the normal college operations, juggling family responsibilities, taking summer vacations, and preparing for fall quarter. Our team needs the support of the SVC community as they continue with this critical work. Please take time to appreciate the efforts of our colleagues, but most importantly, please have patience with the Business Office, Enrollment Services, Financial Aid, Human Resources, Instructional Deans offices, and other impacted areas as they work tirelessly to transition us to ctcLink and complete normal work responsibilities to serve our students and the SVC community.
Welcome New ctcLink Team Staff
Please help me in welcoming (back) our newest member of the ctcLink team. Rachelle Russell joins us from the SBCTC ctcLink team and will provide support as a Functional Analyst primarily to the CS Pillar (Student Services functions). Before the SBCTC, Rachelle was with us at SVC in the financial aid office, so she brings a great combination of ctcLinkexperience and knowledge of the SVC community. Rachelle can be reached at Rachelle.Russell@Skagit.edu.
Timelines and Resources
Additional information on ctcLink can be found in the Administrative Services Newsletter. Here are a few of the latest articles and a link to the project timeline:
I am tremendously proud and inspired by the work of so manymaking sure Skagit Valley College's transition to ctcLink is successful.
News & Updates sent July 22, 2021
Dear College Community,
As you may know, Skagit Valley College is one of eight colleges in the Washington State Community and Technical college system to go live with ctcLink this fall, in DG5 (Deployment Group 5).
The DG5 project managers, subject matter experts, and executive sponsors have partnered throughout the last 10 months to combine knowledge and resources. SVC employees have formed close relationships with colleagues at other colleges to partner in learning multiple ctcLink functional areas. I am grateful for these partnerships.
Here are reminders about a few basic functions we will do in ctcLink as employees:
You will activate and use a new ID, your ctcLink ID, when you log into ctcLink.
For people who also belong to other college communities who currently use ctcLink, your ctcLink ID for SVC will be the same ctcLink ID as you use for the other college.
Leave balances and requests will be viewed and processed in ctcLink, including sick, vacation, personal
days, etc.
Employees who currently use TLR (Time and Leave Reporting) to report hours will begin to use ctcLink for timesheet submission.
ctcLink will process all aspects of the purchasing and travel processes. Note: These processes may change due to the functionality of ctcLink.
Class scheduling, rosters, and grading will be done in ctcLink.
Associate faculty contracts will be processed in ctcLink: issued, dean approval, and accepted.
Employees can access and update their personal information such as their address and phone number.
To provide clarity, here are answers to frequent questions we have received about other tools and systems:
Canvas will continue to be our learning management system, although some data may change.
We will use Canvas for employee training when we get closer to Fall Quarter.
TargetX, Megamations, CampusCE, 25Live, and Early Alerts will continue to be used at SVC.
Some tools will be replaced by functionality we gain in ctcLink.
Employee Self-Service and Manager Self-Service will replace TLR and Earning History.
Advisor Self-Service will replace Advisors Data Portal (ADP).
During and after implementation, employees will continue to have view access to legacy tools until ctcLink data is available.
A lot of activity and work is happening! Thank you for all of your time and support of this new suite of tools that will better serve you and our students.
News & Updates sent July 8, 2021
Dear College Community,
Skagit Valley College will be live on ctcLink in three months! The ctcLink team is working hard to make our transition to ctcLink a very successful one.

Listed below are a few highlights of recent work:
Pillar leads and subject matter experts have been working fervently to review data and confirm accurate conversion of data to ctcLink PeopleSoft.
Subject matter experts have been completing Canvas training courses in preparation for User Acceptance Testing that will begin later this month.
Expanded information, including help resources and reference guides, will be available on a new SVC ctcLink website which will be launched in August.
The ctcLink Project Team and Information Technology staff are collaborating with colleges that are already on ctcLink. A comprehensive communication and training plan is in development. Look out for more information this September.
The transition to ctcLink will affect every area of the College. To help support these efforts, SVC has posted temporary positions for additional support as we prepare for go‐live, stabilization, and later, optimization so we can refine and best utilize all the new features and functionality. This is in line with other colleges in our deployment group and others already live on ctcLink in the community and technical college system. We anticipate these staff will begin in mid‐July or early August, and their first tasks will include helping us to prepare for testing at the end of July, along with helping to setup ctcLink security.

Thank you to all of you who are spending your summer serving students and getting us ready for a successful go‐live on ctcLink!
Email to Students: June 11, 2021
New Secure MySVC tools coming in early October!
Hello Student,
Skagit Valley College is excited to announce that updated MySVC tools are coming in early October, called ctcLink. Your registration for Summer and Fall will continue to be available in the existing MySVC toolbox.
While we will continue to offer excellent customer service to our students, please note there may be a delay or disruption to our services as we make this transition. We will make every effort to answer your questions in a timely manner.
Below is a preview of the updated online student center: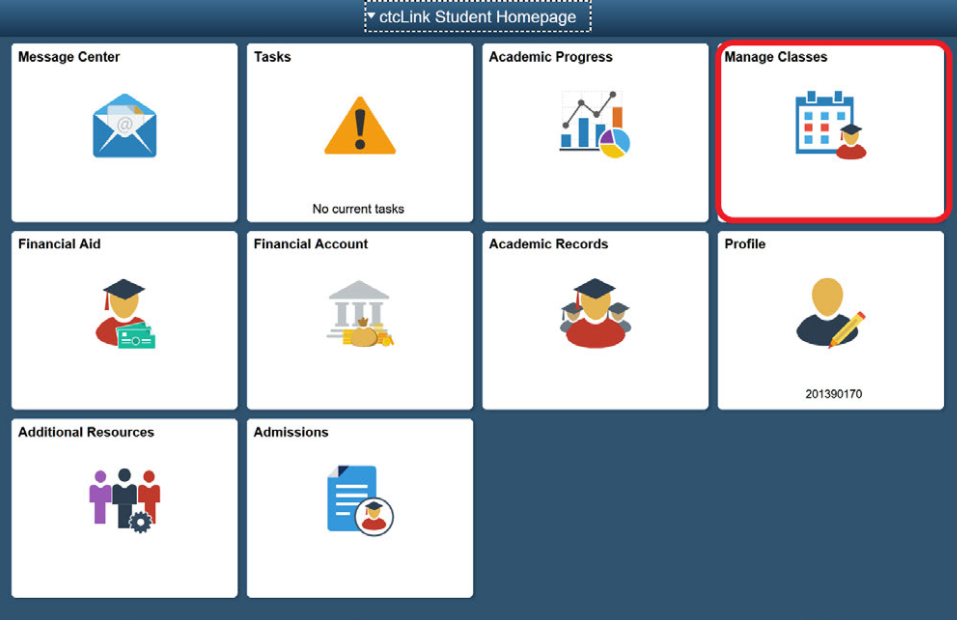 The ctcLink system will allow you to register for classes, view your SVC account balance, and connect with your advisor all in one place.
Additional features of this new centralized system include the ability to view grades and track academic goals.
You will have 24/7 access to these mobile-friendly tools. Once an account is activated, a new student ID number and student record will stay with you wherever you go within the Washington community and technical college system.
We look forward to providing you with this easy to navigate system. Please stay tuned for more details as we get closer to the October launch date.Questions regarding this message can be sent to ctcLinkInfo@skagit.edu.
News & Updates sent June 11, 2021
Dear College Community,
As we come to the end of the 2020‐2021 academic year, I am reflecting on all of the exceptional and tremendous work we have done to serve both our current and future students. Thank you for your service to our students and community.
Skagit Valley College's ctcLink team has been preparing for the Summer and Fall quarters' ctcLink activities. I would like to give you the dates and deadlines of activities for processing our business transactions during Fall Quarter. The dates and deadlines noted below were developed based on collaboration between State Board and Skagit Valley College input, as well as lessons learned from the colleges that have already gone live with ctcLink. These dates and deadlines will also be posted to the employee portal soon.
Slowdowns in key departments
You can expect service slowdowns in the following areas over the next three months:
Enrollment Services (Admissions/Registration)
Cashiering
Financial Aid
Business Office
Purchasing
HR/Payroll
Instruction Office
Staff in these areas will be working long days, late nights, and every weekend to ensure the conversion to the new system goes as smoothly as possible.
Cutoff dates
Our current legacy system will be completely unavailable: Thursday, October 7th‐ Sunday, October 10th
In order to fully prepare for the conversion, many offices will have earlier service cutoffs.
A few high‐profile shutdowns:
| | | |
| --- | --- | --- |
| CUT-OFF EVENT | DATE | DESCRIPTION |
| PURCHASING CUTOFF | 9/10/2021 | Last day to use PCards for purchases, including Amazon, Office Depot, NAPA and other purchases on Accounts. |
| | 9/22/2021 | Last Day to submit PRs/Invoices/Travel & Expense for payments. |
| HUMAN RESOURCES | 9/16/2021 | Last approved start date for exempt, classified, full-time faculty, new hires. |
| | 9/20/2021 | Last approved start date for hourly/student and associate faculty new hires. |
| | 9/24/2021 | Last day for managers and employees to submit employee/job changes. |
| STUDENT SERVICES | 9/29/2021 | Last date to finalize and disburse financial aid and all student funding transactions in our current system. |
| CASHIERING | 9/29/2021 | Last day to take any student payments or post any student financial activity in the cashiering system. |
| OFFICES CLOSED OR LIMITED HOURS/SERVICES | 10/11/2021 – 10/22/2021 | See the full cutoff and go-live calendar here on the portal soon. |
If you have questions about whether something you are working on will be directly affected, please reach out to the ctcLink Pillar Lead in your area to ask questions and come up with workarounds. It is best to do so as soon as possible so that we can look into possible solutions, as options will be more limited in September/October.
Go‐Live on ctcLink – October 11, 2021
Over the summer, many of our colleagues will be engaged in training and User Acceptance Testing (UAT) of ctcLink. UAT provides an opportunity for Skagit Valley College's system users to explore ctcLink's features and determine how best to use those features after Go‐Live. This process allows system users to use ctcLink before it is deployed and to collaborate with departments throughout the College on how we will change the way we do business. This work may create delays in responses as the teams are focused on this work.
Please join me in thanking those who are working throughout the summer to make sure our transition to ctcLink will be seamless! Questions and feedback regarding ctcLink can be sent to ctcLinkInfo@skagit.edu.
News & Updates sent June 6, 2021
Dear College Community,
As we learn more about ctcLink, I am getting excited about how we will be able to serve our students better. The learning part is a steep curve and will be for some time—but totally worth it!
ctcLink is a suite of technology solutions. PeopleSoft is the primary solution and includes three pillars: Campus Solutions, Financial Management, and Human Capital Management. ctcLink also includes High Point, a mobile application for our students to conduct their college business; 25Live, a room scheduling software for academic and non‐academic scheduling; Online Admissions Application Portal (OAAP), an application to collect student information and payment for admission; and a budget planning tool solution available to colleges about one years after they go live with ctcLink. Colleges have the choice to use CampusCE for continuing education as a part of their ctcLink solutions.
ctcLink is one system for all 34 community and technical colleges in Washington State. Therefore, all 34 community and technical colleges will use ctcLink similarly. This will require us to change our business processes.
Each area of SVC will be affected by ctcLink implementation. We will be learning more details throughout the summer. To prepare for ctcLink, we ask that you pay close attention to the following items:

Cut off dates and deadlines for Fall Quarter-related items. These will be much earlier than in previous years and will impact fall quarter contracts, new hires, job changes, submission of purchase requisitions, etc. Once the deadlines have been finalized, information will be sent to all employees.
Plan time in early fall for training: self‐paced Canvas training and attend in‐service ctcLink training. Specific training dates will be coming as we get closer to our go‐live date which is October 11, 2021.

The Washington State Board for Community and Technical Colleges (SBCTC) ctcLink Project Team provides regular updates on their blog. If you haven't already subscribed, please do so by following the link ctcLink Connect | SBCTC.
This is a busy time. I appreciate your dedication in making sure this academic year, 2020‐2021, continues to be successful. Questions and feedback regarding ctcLink can be sent to ctcLinkInfo@skagit.edu.