Information for Students

ctcLink is now Live for Students!
Activate your ctcLink Account Guide
Important: When you activate your ctcLink account, do not click OK in the pop-up window until after you've written down or taken a screenshot of your ctcLink ID number. If you forget your ctcLink ID number, you can look it up on the legacy toolbox here (if you have a legacy SID and PIN.)
About ctcLink
ctcLink provides you with a centralized system to conduct your college business. This system combines student information in a single data set to allow more self-service options and to improve the experience if you are looking to transfer to or from other community and technical colleges within the state.
Your ctcLink account gives you access to the following applications:
Manage Classes Enrollments: Class Enrollments and registrations
Financial Aid: Manage financial aid awards and applications.
Academic Records: View past classes with grades and get unofficial transcripts.
Profile: View or update personal information.
What are the benefits of ctcLink to me as a student?
Using the new online student center, you can do the following 24/7 from your mobile device, laptop, or home computer:
View or update your student information and manage personal contact info.
Register for classes, add, and drop.
Pay tuition and fees and handle financial aid processes.
View grades, track academic goals, and apply for graduation.
Register for specific courses that apply to remaining program requirements.
With your ctcLink ID, you have one login to access your information at Skagit Valley College as well as at all Washington community and technical colleges. If you transfer in from or out to another community or technical college in Washington state, you will be able to use that same ID to access your information, which will follow you.
Registration Tips
We've developed a list of important tips that will help you get the most out of ctcLink when enrolling in classes:
Do I really need a permission number for every class? (No, not for every class.)
Make sure to select the appropriate academic term.
You must be logged in to enroll in a class or add a class to your shopping cart or planner.
Your search layout depends on the size of your screen.
ctcLink Resources for Students
The video below offers a basic overview of the ctcLink Student Homepage where you can access and update your student information, including viewing Financial Aid awards, updating contact information, paying tuition, registering for classes, and many other tasks.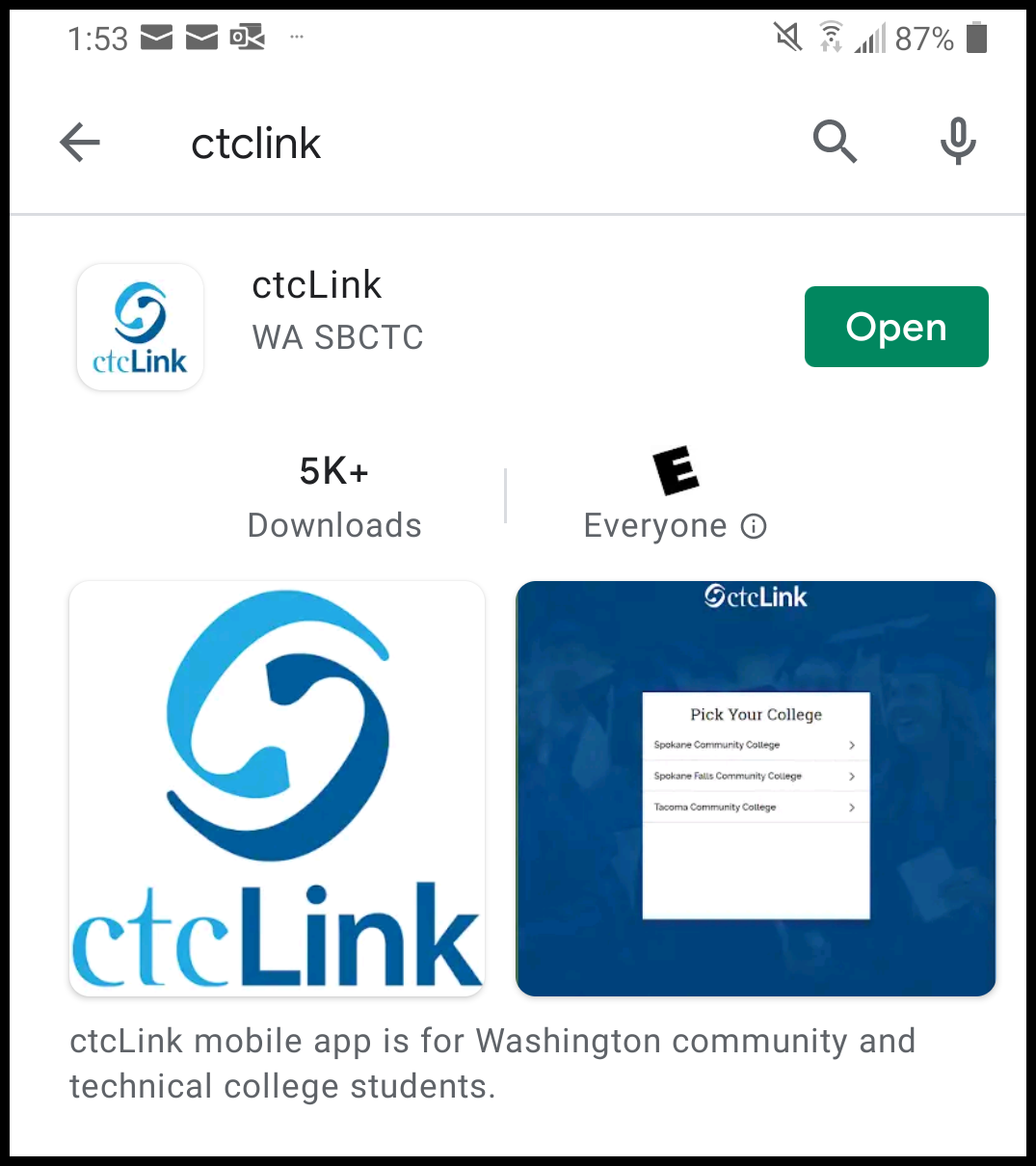 A ctcLink Mobile App is Available
One exciting feature of ctcLink is the app you can use on your mobile devices. Search the app store (iPhone) or play store (Android) on your mobile device for "ctcLink" to download and install this free app today. Note: You must activate your ctcLink account before using the mobile app or its web-based version. See the link at the top of the page for the activation guide.
Below is a preview of the updated mobile student center: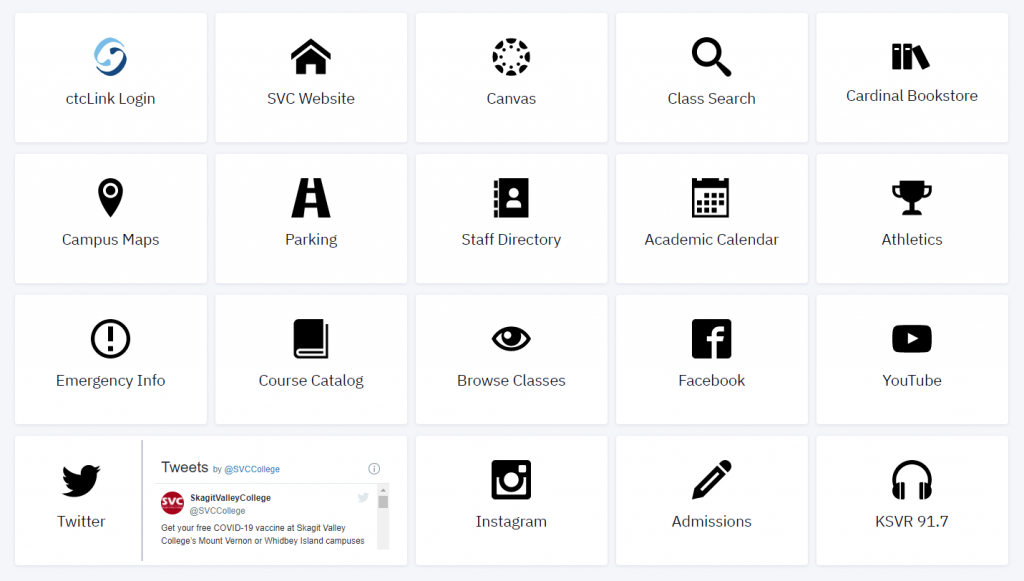 Information Still Available to Students in Legacy Systems

Unofficial Transcript
You can still view your unofficial transcript in our legacy systems using your old SID and PIN here.
Note: If you are not a currently enrolled student and only need to retrieve an unofficial student transcript, you do not need to activate your ctcLink account before accessing your unofficial transcript.
2021-2022 Financial Aid Information
You can still access your financial aid information for Fall 2021 and Winter and Spring 2022 through SVC's Financial Aid Portal here.
Still Have Questions?
If you still have questions, refer to our Frequently Asked Questions (FAQs) for Students web page.