Can't See Your Tuition or Student Account?
Some students are encountering an issue in ctcLink where they are unable to see their account charges.
Example error message on the ctcLink Student Homepage: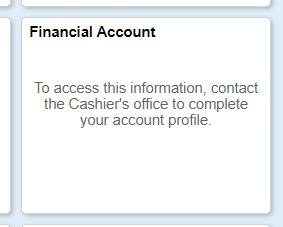 Try this first:
Login to ctcLink by going to https://myaccount.ctclink.us
Select your college tile:

If you are attending multiple colleges, please select the tile for the college for which you want to see the account charges.

Select "Student Homepage".
Select the "Financial Account" tile.

Try this second:
If you are still having this issue or are seeing a similar message within the ctcLink.Gateway.us portal, please contact the IT Help Desk at IT.Helpdesk@skagit.edu or 360-416-7766.
This is sometimes a security permissions issue, rather than a registration or cashiering issue, and our IT team can help.